Reading Time:
4
minutes
Idiotic examples of corporate cost-cutting.
By Daniel Gross
Posted Monday, Sept. 25, 2006, at 4:14 PM ET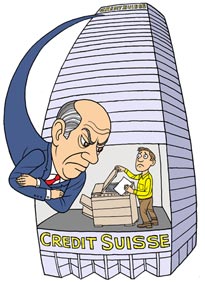 How do we know the economy is slowing down? The falling house prices are a clue. So are the bad macroeconomic data. And then there are the mindless, ultimately meaningless cost-cutting actions by gigantic corporations. We've reached the moment that occurs in every business cycle, before the news gets very bad, when successful companies start turning their employees upside down in hopes of shaking out a few pennies. Today, for example, the Financial Times reported that humongous investment bank Credit Suisse has told bankers to cut down on color Xeroxes and deal-closing dinners as part of a cost-reduction effort. And the Wall Street Journal, fleshing out a story broken last week by Valleywag, reported that Yahoo! "will require its U.S. workers to take vacation or unpaid time off the week between Christmas and New Year's, in a move that could signal concern about hitting some financial goals for the year."
Expect many more of these nickel-and-dime stories in the months to come. Big companies relentlessly benchmark. So, you can be sure that Microsoft's human resources folks are looking into unpaid vacation policies while accountants at Citigroup are examining color-toner budgets. (After all, back in July, Prince Alwaleed bin Talal, a huge shareholder of Citigroup stock, called upon CEO Chuck Prince to enact "draconian" cost-cutting measures. When a Saudi prince accuses you of profligate spending, you know there's a problem.)
These cost-cutting efforts differ from the massive cuts seen lately at crisis-ridden companies such as Ford. Yahoo! and Credit Suisse are trying to prepare for a slowdown in earnings as industry conditions decline. Ford is fighting for its life and so is offering to buy out unionized employees, slashing the white-collar workforce by one-third, and suspending its quarterly dividend. Ford's blunt cost-containing instrument, which takes something out of the hide of everyone from assembly-line workers to shareholders, is certainly damaging to morale. But it's accepted because 1) the company is losing money and 2) everybody bears the burden. By contrast, the cost cuts at highly profitable, sturdy companies such as Credit Suisse are imposed with ruthless indifference, reminiscent of something you might see on The Office. And because they're so arbitrary and meaningless, because they're apparently designed to inflict maximum annoyance on employees, they can be far more damaging to morale.
Frequently, managers looking for low-hanging fruit impose symbolic cost-cutting measures that take away some of the few pleasures their fellow employees enjoy. James Dimon, the legendary cost-cutter who is now the chief executive at J.P. Morgan Chase, has won kudos for his merciless efforts to slash expenses at the bank. Among his triumphs: shutting down employee gyms and cutting off cell phones provided to employees.
What ends up infuriating employees is that the scrimping on minor employee perks co-exists with a pay-any-price attitude for so much else. Credit Suisse, for example, pays seven-figure bonuses to hundreds of bankers every year. Telling associates who prepare deal books that they can't print out color PowerPoint slides because the bank needs to pinch pennies seems an exercise in futility. Yahoo!'s cutback seems even more likely to infuriate. On the heels of a warning on revenues that caused its stock to plummet about 10 percent, Yahoo! told its 10,500 employees to take off the week between Christmas and New Year's. Offices will be closed, allowing workers "to enjoy guilt-free time off while helping Yahoo! reduce unused vacation time," wrote Libby Sartain, Yahoo!'s human resources boss. Assuming average weekly wages of $2,000, that would save the company only $21 million—or about the combined earnings of CEO Terry Semel, CFO Susan Decker, and COO Dan Rosensweig last year. (See Page 26 of Yahoo!'s proxy statement.) Meanwhile, Yahoo! is rumored to be contemplating a $1 billion acquisition of Facebook.
This type of self-defeating cost-cutting often occurs at knowledge businesses whose only real asset is smart, motivated employees. Docking everybody a week's pay at a time of year when 1) they're incurring high expenses and 2) a lot of their friends and colleagues are receiving bonuses doesn't seem like the smartest retention policy for Yahoo!.
To be sure, if companies were indifferent to costs across the board, they wouldn't be in business. But the penny-pinching is aimed squarely at the vast productive middle. Top executives are generally unaffected. (Do you think James Dimon pays for the cell phone he uses at work?)
As the economy moderates and as elevated interest rates continue to take their toll, it's likely we'll see plenty more such examples. Christmas/holiday parties are a prime symbolic opportunity for expense reduction. When an investment bank that took the whole gang to Vegas for a bash in 2005 instead decides to hold its party at TGI Friday's with a cash bar, disgruntled employees will leak the news to the press. Some investors may take it as a sign that management is watching the bottom line. But in the long run, that penny saved may not be a penny earned.
Got an example of mindless corporate cost-cutting? Please send it to Moneybox@slate.com. E-mails may be quoted by name unless sender requests otherwise.
Daniel Gross writes Slate's "Moneybox" column.
Article URL: http://www.slate.com/articles/business/moneybox/2006/09/pinching_the_penny_pinchers.html
finance
reprint